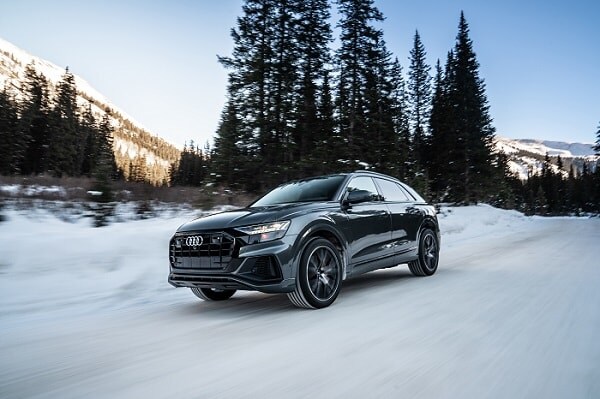 Used Car Values and Car Appraisal
You might be wondering, "How do I value my car?" You can get used car values, a free car appraisal in Bend, and cash for cars at Audi Bend with our online used car price guide. In addition to selling magnificent new Audi cars and new Audi SUVs and providing you with unparalleled customer service, we provide a free trade-in value near Bend, OR and auto appraisals. For more information, please contact us online or in person at our Audi dealership. We are located at 1045 SE 3rd St Bend, Oregon 97702. We also serve the surrounding areas of Redmond, Prineville, and Madras. Even if you don't purchase a vehicle from us, we buy used cars, and we would be happy to cut you a check for the fair trade-in value of your current vehicles.
We buy used cars, trucks, SUVs, and more at Audi Bend. Even if your vehicle isn't paid off in full, we can still work with you in our Audi Finance Center. Our Kendall appraisal experts will determine if your car is worth more than the balance due on the loan. If it isn't, we can suggest additional options for your situation.
Used Car Price Guide at Blue Book Value
Getting your used car value from your Bend Audi dealer is simple. Fill out the form above by providing us with the year, make, model, trim level, and mileage of your current vehicle. Lastly, we will ask for a way to contact you by phone or email, so you may obtain the true market value of your vehicle and the opportunity for a no-obligation free vehicle appraisal. We'll also ask for information about the kind of vehicle you're shopping for, so we can better help you with your car buying process.
At your trade-in value appointment with one of our Kendall appraisal experts, you will be given the true market used car value comparisons from used car price guides including Edmunds, Kelley Blue Book, and NADA. They will walk you through the pre-owned car valuation process and provide you with enough information about your car to make an informed decision as to whether you should sell your vehicle to a trusted dealership like Audi Bend or another party.
Thank you for visiting Audi Bend. We appreciate your time and hope that the trade-in value near Bend, OR and car appraisal information provided by our used car price guide has served you well. You deserve nothing but a hassle-free trade-in value experience and we aim to give that to you every time we buy cars from you.